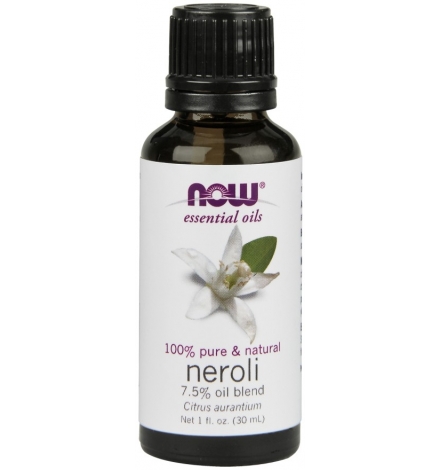 Now Foods Neroli Essential Oil 30ml
0000-00-00
733739075765
New product
Now Foods Neroli Essential Oil 30ml
Συστατικά: Καθαρό έλαιο jojoba & καθαρό έλαιο neroli.
Άρωμα: Βαθύ, φυτικό άρωμα
Οφέλη: Χαλαρωτικό, καταπραϋντικό, κεντραρισμένο
Μέθοδος εκχύλισης: Ατμός αποσταγμένο από λουλούδια
Αναμιγνύετε καλά με: Έλαια εσπεριδοειδών, λάδι χαμομηλιού, λάδι πατσουλί, λάδι ylang ylang
Έλεγχος καθαρότητας / Διασφάλιση ποιότητας
Το νέρολι προέρχεται από τα άνθη της νερατζιάς. Η ονομασία του έχει ρίζες στο 16ο αιώνα, όταν η ιταλίδα πριγκίπισσα Nerola χρησιμοποιούσε τα άνθη της νερατζιάς για να αρωματίσει την μπανιέρα και τα ρούχα της. Παραδοσιακά το χρησιμοποιούσαν στις γαμήλιες ανθοδέσμες για να ηρεμούν οι νύφες που είχαν πολύ άγχος. Είναι γνωστό για το υπέροχο, γλυκό, ελαφρά λουλουδάτο άρωμα που χαλαρώνει και ανεβάζει τη διάθεση.
Ομορφιά
Εξαιρετικό για όλους τους τύπους δέρματος

Ιδανικό για ξηρές επιδερμίδες με τάσεις γήρανσης και ραγάδες

Βοηθά στην αναζωογόνηση των κυττάρων και βελτιώνει την ελαστικότητα του δέρματος
Σώμα
Αποτοξίνωση, κυτταρίτιδα, κατακράτηση νερού

Μυϊκούς πόνους και των ρευματικά
Πνεύμα και νους
Ιδανικό για ευέξαπτους χαρακτήρες γιατί δημιουργεί διάθεση ηρεμίας

Ανεβάζει τη διάθεση, διώχνει την κατάθλιψη, τη συναισθηματική εξάντληση και την αϋπνία

Χρησιμοποιήστε το όταν θέλετε να αισθανθείτε δημιουργικότητα, θάρρος και αυτοπεποίθηση
Προτεινόμενη Χρήση:
Αυτό το μίγμα έχει ήδη αραιωθεί και είναι έτοιμο για χρήση. Συμβουλευτείτε ένα βιβλίο αιθέριων ελαίων ή άλλη επαγγελματική πηγή αναφοράς για προτεινόμενες χρήσεις.
Now Foods Neroli Essential Oil 30ml
DESCRIPTION
Citrus aurantium
Ingredients: Pure jojoba oil & pure neroli oil.
Aroma: Deep, floral aroma
Benefits: Calming, soothing, centering
Extraction Method: Steam Distilled from flowers
Mixes Well With: Citrus oils, chamomile oil, patchouli oil, ylang ylang oil
Purity Tested/Quality Assured
This blend is already pre-diluted and ready for use. Please consult an essential oil book or other professional reference source for suggested uses.
No customer reviews for the moment.