Dymatize Elite Layer 60g Bar
2023-04-30
New product
Dymatize Elite Layer 60g Bar
Η μπάρα Dymatize Elite Layer είναι το πιο πρόσφατο σνακ πρωτεΐνης που μπορείτε να το χρησιμοποιήσετε οποιαδήποτε στιγμή - χωρίς ενοχές. Είναι μια εξαιρετικά νόστιμη και απολαυστική μπάρα, με υψηλή περιεκτικότητα σε πρωτεΐνη , χαμηλή σε σάκχαρα και γεμάτη με πολύ....... Mmmmh.....  σε κάθε δάγκωμα. 
Μέσα σε μια υπέροχη επίστρωση λευκής σοκολάτας ή σοκολάτας γάλακτος υπάρχει ένα κρεμώδες στρώμα με λεπτές τραγανές πρωτεΐνες. Επιλέξτε ανάμεσα σε νόστιμο φυστικοβούτυρο ή νόστιμη γεύση καραμέλας βανίλιας. Είναι το τέλειο σνακ πρωτεΐνης μεταξύ των γευμάτων.
Με 24 γραμμάρια πρωτεΐνης και με μόνο 1,5 γραμμάρια ζάχαρης και τουλάχιστον 30% λιγότερους υδατάνθρακες από τις κανονικές σοκολάτες, η νέα μπάρα Dymatize Elite Layer διατίθεται σε δύο μέρη μεγέθους δαγκώματος. ( 2Χ30 γρ). 
24 g πρωτεΐνης ανά μερίδα
1,5 g ζάχαρης
χαμηλή σε υδατάνθρακες *
Οδηγίες Χρήσης: 
1 μερίδα (≙ 2 τεμάχια- 30g X 2 ) καθημερινά.
Η υπερβολική κατανάλωση μπορεί να προκαλέσει καθαρτικά αποτελέσματα.
Ως μέρος μιας ποικίλης και ισορροπημένης διατροφής και ενός υγιεινού τρόπου ζωής.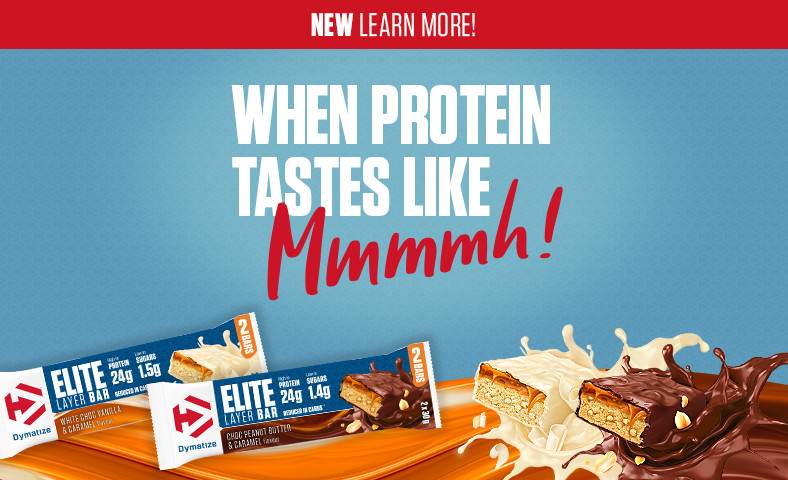 Dymatize Elite Layer 60g Bar
100% taste without guilt
Dymatize Elite Layer bar is our latest protein snack that you can tuck into any time – guilt free. It´s a super tasty and satisfying bite that's high in protein, low in sugars and packed with a lot of Mmmmh.
Inside a delicious coating of white or milk chocolate there's a creamy layer and fine protein crispies. Choose between tasty peanut butter or yummy vanilla caramel flavour. It's the perfect protein snack between meals.
With 24 g of protein, only 1,5 g of sugar and at least 30% fewer carbs than regular chocolate bars, the new Dymatize Elite Layer bar comes in two bite-size parts.
24 g protein per portion
1,5 g sugar
reduced in carbs*
(* On average 30% less carbohydrates than traditional chocolate bars)
Nutrients may vary in flavour - for flavour specific information see nutritional information
Nutrition Facts: 
100g
60g
Energy kJ/ (kcal) 
1525/ (364)
915 /(219)

Fat

Of which saturates

14g

9.0g

8.1g

5.4g

Carbohydrates

-of which sugars

-of which polyols

29g

2.5g

26g

18g

1.5g

15g

Fibre
3.0g
1.8g
Protein
40g
24g
Salt
0.49g
0.25g
Directions:
1 portion (≙ 2 pieces) daily
Excessive consumption may produce laxative effects.
As part of a varied and balanced diet and a healthy lifestyle.
Ingedients: 
White chocolate with sweetener (22%) [sweetener (maltitols), cocoa butter, whole milk powder, emulsifier (lecithins)], milk proteins (calcium caseinate, whey protein isolate), hydrolysed collagen, humectant (glycerol), water, sweetener (sorbitols), soy crispies (soy protein, starch, salt), soy protein, vegetable fats (palm kernel, palm), dextrin (wheat), rapeseed oil, flavourings, skimmed milk powder, emulsifiers (soy lecithin, mono- and diglycerides of fatty acids, sorbitan tristearate), acidity regulator (sodium citrates), salt.
May contain: peanuts, hazelnuts, almonds.
No customer reviews for the moment.