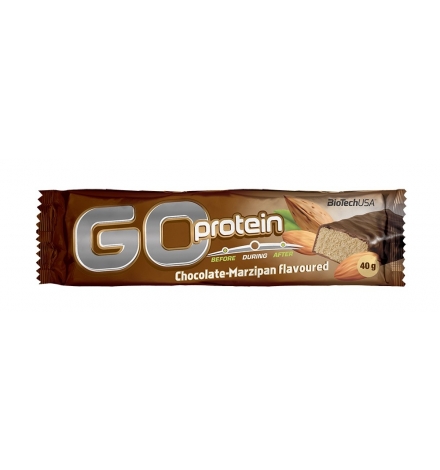 Biotech USA Go Protein Bar 40g
2019-12-31
New product
Biotech USA Go Protein Bar 40g 
ΑΠΟΛΑΥΣΤΙΚΗ ΜΠΑΡΑ ΠΡΩΤΕΪΝΗΣ ΜΕ BCAAS,
L-ΓΛΟΥΤΑΜΙΝΗ ΚΑΙ ΒΙΤΑΜΙΝΕΣ.
ΣΕ 1 ΜΠΑΡΑ:
10 γρ πρωτεΐνης

10 βιταμίνες
Η μπάρα GO Protein προσφέρει τέλεια αναπλήρωση Πρωτεΐνης, BCAAs, L-Γλουταμίνης και Βιταμινών.
Οδηγίες Χρήσης :
πριν και μετά την προπόνηση.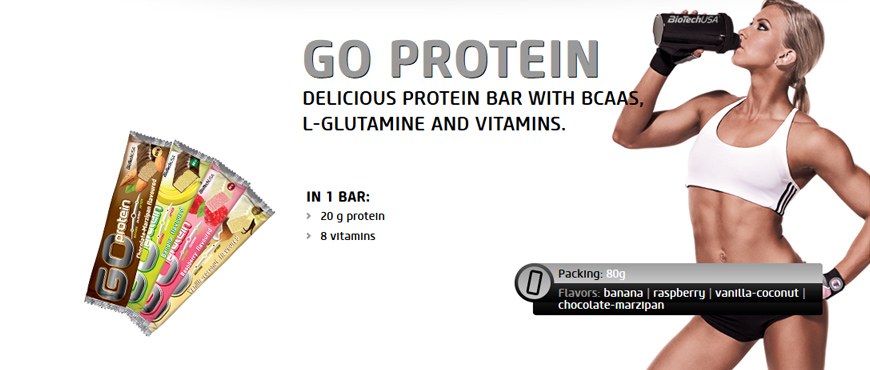 Biotech USA Go Protein Bar 40g 
DELICIOUS PROTEIN BAR WITH BCAAS,
L-GLUTAMINE AND VITAMINS.
Per Bar:
GO Protein Bar is a great refill of valuable Proteins, BCAAs, L-Glutamine and Vitamins before and after workout.
Directions:
Consume pre- and post-workout or other physical activity.
Nutrition Facts for 100 g/40 g: Energy 1772 kJ (422 kcal)/708 kJ (169 kcal) (21/8.4 NRV%*); Fat 17 g/6.7 g (24/9.6 NRV%), of which saturates 12 g/4.6 g (60/23 NRV%); Carbohydrate 40 g/16 g (15/6.2 NRV%), of which sugars 29 g/11.5 g (32/13 NRV%); Fibre 5.4 g/2.2 g (**); Protein 25 g/10 g (50/20 NRV%); Salt 0.9 g/0.36 g (15/6 NRV%). Vitamin content in 100 g: Vitamin C 27.6 mg (34% NRV); Niacin as nicotinamide 5.5 mg (34% NRV); Vitamin E 4.1 mg (34% NRV); Pantothenic acid 2.1 mg (35% NRV); Vitamin B6 0.5 mg (35% NRV); Vitamin B12 0.9 μg (36% NRV); Vitamin B1 0.4 mg (36% NRV), Vitamin B2 0.5 mg (35% NRV); Folic acid 69 μg (34% NRV); Biotin 17.3 μg (34% NRV).
*NRV: nutrient reference value for adults. Reference intake of an average adult (8400 kJ / 2000 kcal).
**: no NRV has been established. Added amino acids in 100 g /40 g: L-glutamine 325 mg/130 mg (**); L-leucine 2150 mg/860 mg (**), L-valine 1080 mg/432 mg (**), L-isoleucine 1100 mg/440 mg (**).
INGREDIENTS
Glucose-fructose syrup, soy protein isolate, milk-chocolate coating [sugar, vegetable oil (palm kernel), whey, cocoa, milk, emulsifier (soy lecithin), flavour], whey protein concentrate, invert syrup, soy flakes, vegetable oil (palm, palm kernel, shea), cream with hazelnuts [sugar, vegetable fat (palm, shea), whey, roasted hazelnuts], cocoa, emulsifier (soy lecithin), flavour, coconut [coconut, antioxidant (sulphur dioxide)], corn-potato extrudate (corn semolina, mashed potatoes, sugar, wheat fibre), emulsifier (rape lecithin, cocoa, L-glutamine, thickener (guar gum), flavour, antioxidant additives (E-306, E-304, E-300), L-leucine, multivitamin premix (vitamins: E, B1, B2, B6, B12, B5, B3, C, biotin, folic acid), L-isoleucine, L-valine, preservative (sorbic acid). Allergens: gluten, soy, milk, hazelnuts, sulphur dioxide. May contain traces of nuts, peanuts and sesame.
No customer reviews for the moment.