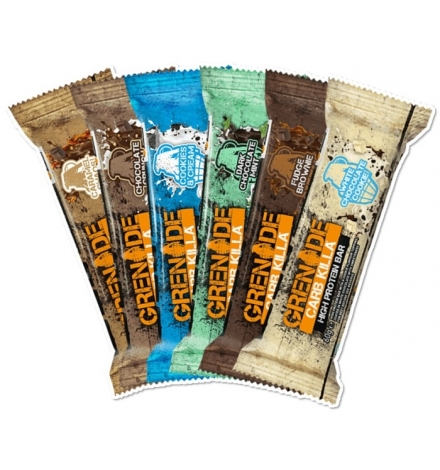 Grenade® Carb Killa High Protein Bar 60g
2019-11-30
New product
Grenade® Carb Killa High Protein Bar 60g
Η Carb Killa® παρασκευάζεται χρησιμοποιώντας μία ειδικά επιλεγμένη διαδικασία ψησίματος για εξαιρετική γεύση με αποτέλεσμα μία πιο ήπια, τραγανή υφή. Η Carb Killa® έχει υψηλή περιεκτικότητα σε πλήρεις πρωτεΐνες, χαμηλή σε επίπτωση υδατανθράκων και φορτωμένη με τόνους από ίνες. 
Υψηλή σε  Πρωτεϊνη - πάνω από 23 γραμμάρια Ανά Μπάρα

Χαμηλή Υδατάνθρακες και Χαμηλή Ζάχαρη

Εγκεκριμένη και Διαπιστευμένη από Informed Sport
Οδηγίες Χρήσης:
Μπορεί να καταναλωθεί οποιαδήποτε ώρα της ημέρας - από ένα νόστιμο σνακ μεταξύ των γευμάτων, σε μία προ-προπόνηση χρήση που έχει υψηλή περιεκτικότητα σε πρωτεΐνες και χαμηλή σε υδατάνθρακες!
Η επικάλυψη σοκολάτας και το παχύ στρώμα καραμέλας σημαίνει ότι πρέπει να κρατάτε την κατανάλωση της σοκολάτας υπό έλεγχο.
Grenade® Carb Killa High Protein Bar 60g
Carb Killa® is a triple-layered deliciously crunchy low sugar high protein bar.Made using a specially selected baking process for exceptional taste resulting in a softer, crunchier texture.
Carb Killa® is high in complete proteins, low in impact carbs and loaded with tons of fibre.
High Protein – over 23g Per Bar*

Low Carbs and Low Sugar

Informed Sport approved and accredited
Can be eaten any time of the day - from a delicious snack between meals, to a post-workout treat that is high in protein and low in carbs!
Its chocolate coating and thick caramel layer mean its perfect to keep those chocolate cravings under control. 
Protein Blend (Calcium Caseinate (Milk), Milk Protein Isolate, Whey Protein Isolate (Milk)), Milk Chocolate with Sweetener (18%) (Sweetener: Maltitol; Cocoa Butter, Whole Milk Powder, Cocoa Mass, Emulsifier: Soy Lecithin; Flavourings), Bulking Agent: Polydextrose; Hydrolysed Beef Gelatine, Humectant: Glycerol; Soy Protein, Cocoa Butter, Soy Oil, Palm Fat, Sweeteners: Xylitol, Sucralose; Skimmed Milk Powder, Low Fat Cocoa, Cream Powder (Milk), Tapioca Starch, Salt, Emulsifier: SoyLecithin; Flavourings (Milk).
No customer reviews for the moment.