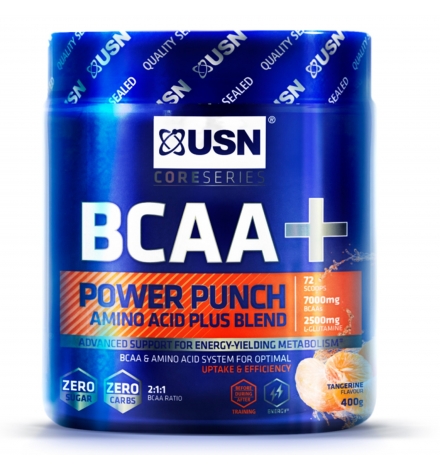 USN BCAA Power Punch 400g
2020-04-30
New product
USN BCAA Power Punch 400g
Τα BCAA Power Punch Ultimate Sports Nutrition είναι ένα προϊόν που τελικά θα ανταποκριθεί σε όλες τις προσδοκίες σας! Ιδανικό για την αύξηση της άλιπης μυϊκής μάζας, της απόδοσης και της αντοχής.
Έχει σχεδιαστεί για να βοηθήσει στην αύξηση της άλιπης μυϊκής μάζας, την απόδοση και την αντοχή. Τα BCAA αμινοξέα (λευκίνη, ισολευκίνη, και βαλίνη), αποτελούν περίπου το 1/3 των σκελετικών μυών στο ανθρώπινο σώμα, και παίζουν σημαντικό ρόλο στη σύνθεση των πρωτεϊνών, και συνεπώς στην ανάπτυξη των μυών και στην αποκατάσταση.
Η γλουταμίνη είναι το πιο άφθονο αμινοξύ στο ανθρώπινο σώμα και είναι αναμφισβήτητα το πιο σημαντικό στην διαδικασία της ανάπτυξης των  μυών και της ενίσχυσης της δύναμης.
Η μηλική κιτρουλίνη μπορεί να ενισχύσει την παραγωγή νιτρικού οξειδίου (επίσης αυξάνει τα φυσικά επίπεδα αργινίνης), την αερόβια παραγωγή ενέργειας, καθώς και την αποκατάσταση μετά την προπόνηση - η μείωση της αίσθησης της κόπωσης έχει αποδειχθεί, με αρκετά εμφανή μειωμένα επίπεδα γαλακτικού οξέος και αμμωνίας.
ΜΙΑ ΔΥΝΑΜΙΚΗ ΦΟΡΜΟΥΛΑ ΑΜΙΝΟΞΕΩΝ ΠΟΥ ΕΝΙΣΧΥΕΙ ΤΗΝ ΑΠΟΔΟΣΗ ΚΑΙ ΤΗΝ ΑΝΤΟΧΗ.
Βασικά πλεονεκτήματα του BCAA POWER PUNCH:
Επιστημονικά αναπτυγμένο  μείγμα γλουταμίνης  και αμινοξέων διακλαδισμένης αλυσίδας

Περιλαμβάνει BCAA σε αναλογία 2:1:1

Επιπλέον Βιταμίνη Β6 για την ενίσχυση της μεταφοράς των αμινοξέων διακλαδισμένης αλυσίδας στο εσωτερικό των κυττάρων

Ενισχυμένη παραγωγή ΝΟ 

Βελτιωμένη παραγωγή αερόβιας ενέργειας

Ενισχυμένη αποκατάσταση μετά την προπόνηση

Είναι ένα ρόφημα με υπέροχη γεύση (μανταρίνι) που αναμιγνύεται εύκολα
Aναμείξτε 13γρ σε 500-750ml κρύου νερού. 
Άτομα που ζυγίζουν περισσότερο από 85kg μπορούν να λάβουν μέχρι και τη διπλάσια δοσολογία.
Μπορείτε να το πάρετε πριν / κατά τη διάρκεια ή μετά την προπόνησή σας.
 USN BCAA Power Punch 400g
USN BCAA Power Punch is a very simple and effective supplement. BCAA Power Punch consists of a blend of the branched chain amino acids (BCAAs) L-Leucine, L-Isoleucine and L-Valine in a Leucine-heavy ratio alongside L-Glutamine, L-Citrulline Malate and Vitamin B6 - all of these ingredients are important in this formula.
The branched chain amino acids are the most important aminos for muscle growth and repair and they are found in high doses in the BCAA Power Punch formula - a huge 7g per serving is way more than you get in most amino acid drinks.
L-Glutamine is considered the next most important amino acid for muscle repair after the BCAAs and again the dosage found in BCAA Power Punch is high - 2.5g per serving.
Rounding off the formula is L-Citrulline Malate and Vitamin B6 - the Vitamin B6 is to help with processing the amino acids and the Citrulline helps with muscle fullness and pump.
Blend of Glutamic Acid and Branched Chain Amino Acids

Protein supports the growth & maintenance of muscle

Makes an easy to mix, great tasting beverage
USN BCAA Power Punch is designed mainly to be taken in and around your workout (hence the addition of the Citrulline) but it is also suitable as a drink during the day in place of a fizzy drink to top up your amino acid intake and it also tastes delicious so it will satisfy a "sweet tooth" which is especially important when following a strict diet! 
For the best results mix 2 heaped teaspoons (13g) of our BCAA Powerpunch into 500-750ml of cold water in your water bottle. Shake well for at least 30 seconds.
Individuals weighing 85kg and more should take 4 heaped teaspoons. Sip drink prior, during and after training/event.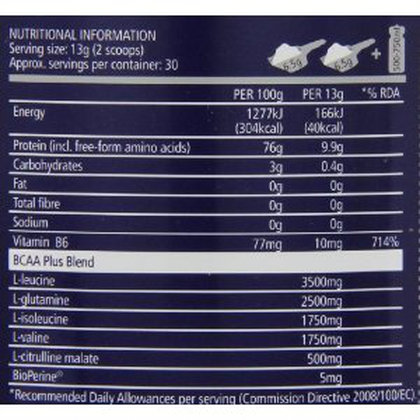 No customer reviews for the moment.