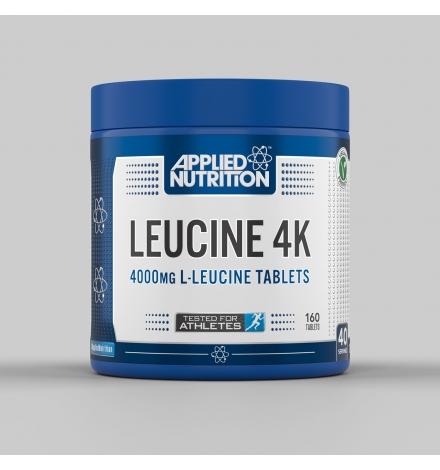 Applied Nutrition Leucine 4K 4000mg 160Tabs
2022-11-30
634158794360
New product
Applied Nutrition Leucine 4K 4000mg 160Tabs
160 ΤΑΜΠΛΕΤΕΣ| 208G | 40 ΔΟΣΕΙΣ
Η L-Λευκίνη είναι ένα Απαραίτητο Αμινοξύ που σημαίνει ότι δεν μπορεί να συντεθεί από τον ανθρώπινο οργανισμό και ως εκ τούτου, πρέπει να καταναλώνεται μέσω της διατροφής ή σε μορφή συμπληρώματος.
Η L-Λευκίνη είναι το κύριο και πιο άφθονο από τα τρία Αμινοξέα Διακλαδισμένης Αλυσίδας (BCAA). Αυτό βρίσκεται συνήθως σε υψηλές ποσότητες σε πολλές τροφές με βάση τα ζώα, όπως τα άπαχα κρέατα, τα πουλερικά και τα ψάρια. Τα δισκία L-Leucine είναι ιδανικά για οποιονδήποτε συμμετέχει σε έντονη σωματική δραστηριότητα. Αυτά μπορούν να ληφθούν είτε πριν είτε μετά την προπόνηση.
Η λευκίνη είναι υπεύθυνη για την αύξηση της πρωτεϊνοσύνθεσης μέσα στο μύη= Παραπάνω αύξηση μυϊκής μάζας= Όγκος.
ΒΑΣΙΚΑ ΟΦΕΛΗ
Απαραίτητο αμινοξύ
Πρωτοβάθμια Διακλαδισμένη Αλυσίδα Αμινοξύ
Ιδανικό για πριν & μετά την προπόνηση
Συνδυάζεται με BCAA Amino-Hydrate & EAA Amino Fuel
Πιστοποιημένο προϊόν Halal
ΠΡΟΤΕΙΝΟΜΕΝΗ ΧΡΗΣΗ
Καταναλώστε μία μερίδα καθημερινά κατά προτίμηση με το φαγητό.
Για βέλτιστα αποτελέσματα τις ημέρες προπόνησης, καταναλώστε μία μερίδα 45 λεπτά πριν την άσκηση και μία μερίδα μετά την άσκηση.

Applied Nutrition Leucine 4K 4000mg 160Tabs
160 TABLETS | 208G | 40 SERVINGS
L-Leucine is an Essential Amino Acid meaning it cannot be synthesized by the human body and therefore, must be consumed through our dietary food intake or in supplement form.

L-Leucine is the primary and most abundant out of the three Branched Chain Amino Acids (BCAAs). This is commonly found in high amounts in many animal-based foods such as lean meats, poultry, and fish. L-Leucine tablets are ideal for anyone taking part in intense physical activity. These can be taken either before or after a workout.
KEY BENEFITS
Essential Amino Acid
Primary Branched Chain Amino Acid
Ideal for Pre & Post Workout
Stacks with BCAA Amino-Hydrate & EAA Amino Fuel
Halal Certified Product

SUGGESTED USE
Consume one serving daily preferably with food. For optimal results on training days consume one serving 45 minutes prior to exercise and one serving post-exercise.
NUTRITIONAL INFORMATION
Serving Size: 4 Tablets - Serving Per Container: 40

L-Leucine 4000 mg (4 g)
OTHER INGREDIENTS
Bulking Agent: Microcrystalline Cellulose. Glazing Agents: Hydroxypropylmethyl Cellulose, Vegetable Glycerin (from Palm Kernel Oil & Coconut Oil). Anti-Caking Agents: Vegetable Stearic Acid, Silicon Dioxide, Vegetable Magnesium Stearate. Cellulose Gum.

FREE FROM: Gluten, Wheat, Dairy, Soya, Yeast, Preservatives, Sweeteners, Artificial Flavours or Colours.
No customer reviews for the moment.