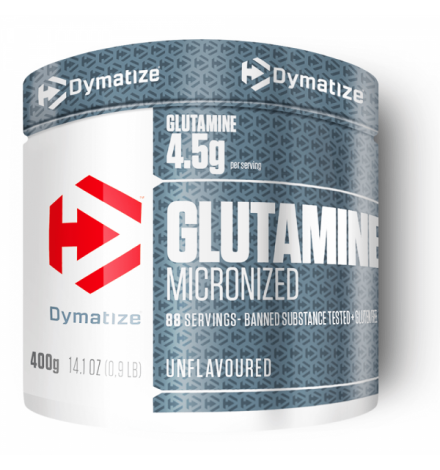 Dymatize Glutamine Micronized 400g
2023-08-31
4029679997561
New product
Dymatize Glutamine Micronized 400g
Μετά την προπόνηση στο γυμναστήριο, ο μεταβολισμός παραμένει αυξημένος και διεγείρεται η συσσώρευση μυϊκής πρωτεΐνης. Τα αμινοξέα είναι τα δομικά στοιχεία αυτών των πρωτεϊνών. Το πιο κοινό ελεύθερο αμινοξύ στον ανθρώπινο μυϊκό ιστό είναι η L-Γλουταμίνη - ένα πρωτεϊνογενές αμινοξύ.
Η L-γλουταμίνη θεωρείται ως ένα από τα βασικά συμπληρώματα στον αθλητισμό και χρησιμοποιείται συχνά μετά από κάθε προπόνηση. Η Dymatize® GLUTAMINE MICRONIZED περιέχει 100% L-γλουταμίνη!Επίσης,  είναι άγευστη, και μπορεί εύκολα να προστεθεί σε νερό ή χυμό και να έχει τέλεια διαλυτότητα καθώς είναι μικρονισμένη!
Υπάρχει μια μικρή τρύπα στο φύλλο σφράγισης κάτω από το καπάκι όλων των δοχείων πούδρας. Αυτή η τρύπα είναι απαραίτητη και έχει σχεδιαστεί για να αποτρέπει τη στρέβλωση του δοχείου εξισώνοντας οποιαδήποτε πίεση κατά τη μεταφορά. Δεν θέτει σε κίνδυνο την ποιότητα των προϊόντων μας με κανέναν τρόπο.
Παρέχει 4,5 g υψηλής ποιότητας L-Γλουταμίνη ανά μερίδα
Η L-γλουταμίνη είναι το πιο άφθονο ελεύθερο αμινοξύ στον μυϊκό ιστό
Άγευστη
Κατάλληλο για vegans, χωρίς γλουτένη και χωρίς λακτόζη
Ελεγμένο από το "Informed-Sport" για τη διασφάλιση των αθλητών και την υψηλότερη ποιότητα του προϊόντος

Dymatize Glutamine Micronized 400g
After fitness workouts, metabolism remains elevated and the build-up of muscle protein is stimulated. Amino acids are the building blocks of these proteins. The most common free amino acid in human muscle tissue is L-Glutamine - a proteinogenic amino acid.
L-Glutamine is seen as one of the basic supplements in fitness sport and is often used after every workout. Dymatize® GLUTAMINE MICRONIZED contains 100% L-Glutamine! Due to its unflavoured taste, Dymatize® GLUTAMINE MICRONIZED powder can conveniently be added to water or juice and has great solubility through micronization!
There is a small hole in the foil seal under the lid of all our powder cans. This hole is necessary and is designed to prevent the can from warping by equalising any pressure during transport. It does not compromise the quality of our products in any way.
Provides 4,5 g of high quality L-Glutamine per serving
L-Glutamine is the most abundant free amino acid in muscle tissue
Unflavoured
Suitable for vegans, free from gluten and free from lactose
Banned substance tested by "Informed-Sport" for athletes' assurance and highest product quality
Directions:
1 serving per day, after every workout.
Mixing instruction (1 portion): Mix 1 scoop (= 4.5 g) with water or juice – scoop included.
This food supplement should not be used as a substitute for a varied diet. A balanced diet and a healthy lifestyle are important. Do not exceed the recommended daily intake. Keep out of reach of young children.
Supplements Facts
Per 100g
Per 4.5g
Energy kJ (kcal)
1700 (400)
77 (18)

Fat 

of which saturates

0g

0g

0g

0g

Carbohydrate

-of which sugars

0g

0g

0g

0g

Protein
0g
0g
Salt
0g
0g
L-Glutamine
100g
4.5g
Ingredients:
No customer reviews for the moment.