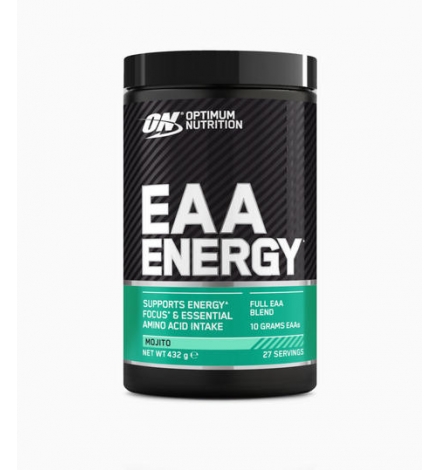 Optimum EAA Energy 432g
2023-05-31
New product
Optimum EAA Energy 432g
Ζώντας μια πολυάσχολη και γεμάτη ζωή μπορεί να χρειάζεστε πλέον έναν αξιόπιστο σύντροφο για να σας βοηθήσει να ανταποκριθείτε στις καθημερινές απαιτήσεις της ζωής, της εργασίας και της κατάρτισης. Η μάρκα Optimum Nutrition είναι η Νο.1 Εταιρία Αθλητικών Συμπληρωμάτων του κόσμου και  σας προσφέρει το νέο EAA ENERGY ▲. Έχουμε συνδυάσει ένα πλήρες μείγμα Απαραίτητων Αμινοξέων με 100 mg Καφεΐνης για την υποστήριξη της ενέργειας, της εστίασης * και της απαραίτητης πρόσληψης αμινοξέων. Κάθε μερίδα παρέχει 10 γραμμάρια απαραίτητων αμινοξέων, 100 mg καφεΐνης για βελτίωση της εστίασης * και περιέχει μηδενικά σάκχαρα. Το EAA Energy ▲ έχει σχεδιαστεί για να σας δίνει μια επιπλέον ώθηση πριν από την προπόνηση σας ή να υποστηρίξετε τις ενεργειακές σας ανάγκες καθ' όλη την διάρκεια ημέρα.
▲ Η βιταμίνη C συμβάλλει στον φυσιολογικό μεταβολισμό που παράγει ενέργεια
* Η καφεΐνη συμβάλλει στην αύξηση της εγρήγορσης και στη βελτίωση της συγκέντρωσης
Οδηγίες Χρήσης:
Ανακατέψτε 16 g (~ 4 επίπεδα) σε 600 ml κρύου νερού. Συνιστώμενη κατανάλωση 1 μερίδας ανά ημέρα.
____________________________________________________
Optimum EAA Energy 432g
Living a busy and full life can leave you needing a trusted partner to help you meet the everyday demands of life, work and training. The World's No.1 Sports Nutrition powder brand Optimum Nutrition brings you EAA ENERGY▲. We have combined a full blend of Essential Amino Acids with 100 mg Caffeine to support energy▲, focus* and essential amino acid intake. Each serving provides 10 grams of essential amino acids, 100 mg caffeine to improve focus* and contains zero sugars. EAA Energy▲ is designed to give you an extra boost before your workout or support your energy▲ needs throughout the day.
▲Vitamin C contributes to normal energy-yielding metabolism
*Caffeine contributes to increased alertness and improved concentration
Directions:
Mix 16 g (~4 level scoops) in 600 ml of cold water. Recommended consumption of 1 serving per day.
Supplements Facts
Servings Size: 16g
Serving Per Container: 27
| | |
| --- | --- |
| Typical Value | Per 16g |
| Energy  | 241kJ/58 kcal |
| Sugars | 0.1g |
| Vitamin C | 13mg(16%) |
| Essential Amino Acids | 10g |
| L- Leucine | 5g |
| L-Isoleucine | 1.2g |
| L-Valine | 1.2g |
| L-Threonine | 741mg |
| L-Lysine Hydrochlroride | 709mg |
| L-Phenylalanine | 365mg |
| L-Methionine | 223mg |
| L-Tryptophan | 219mg |
| L-Histidine | 203mg |
| Beta- Alanine | 356mg |
| Caffeine | 100mg |
| Green Tea Extract | 100mg |
| Green Coffee Extract  | 25mg |
 Ingredients:
Branched Chain Amino Acid Blend (L-Leucine, L-Isoleucine, L-Valine, Emulsifier: Sunflower Lecithin), Essential Amino Acid Blend (L-Leucine, L-Threonine, L-Lysine Hydrochloride, L-Phenylalanine, L-Methionine, L-Tryptophan, L-Histidine), Flavourings, Acids (Citric Acid, Malic Acid, L(+)-Tartaric Acid), Beta-Alanine, Sweeteners (Sucralose, Acesulfame K), Inulin, Thickeners (Sodium Carboxy Methyl Cellulose, Xanthan Gum), Anti-Caking Agents (Silicon Dioxide, Calcium Silicate), Green Tea Extract (Camellia sinensis, leaf), Natural Caffeine, Colours (Beta-Carotene, Beetroot Red), L-Ascorbic Acid, Green Coffee Extract (Coffea arabica L., fruit).
May contain: Milk, Gluten, Egg, Soy, Nuts and Peanuts.
Please Note: Nutritional facts and ingredients may vary slightly between flavours.
No customer reviews for the moment.