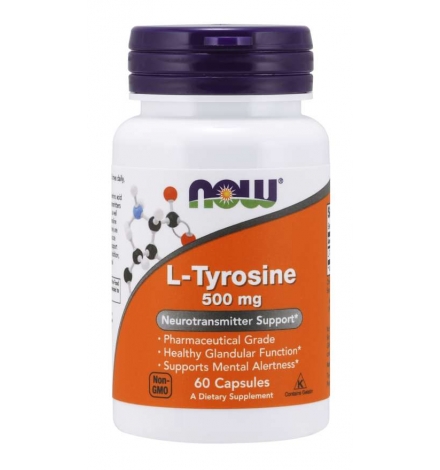 Now Foods L-Tyrosine 500mg 60Caps
2023-01-31
733739001603
New product
Now Foods L-Tyrosine 500mg 60Caps
Η L-Τυροσίνη είναι ένα επουσιώδες αμινοξύ, σημαντικό για τη δομή όλων των πρωτεϊνών στο σώμα. Μετέχει στη σύνθεση των ορμονών του θυροειδούς (Θυροξίνη Τ4 και τριωδοθυρονίνης Τ3) και δίνει πολύ καλά αποτελέσματα σε περιπτώσεις υποθυροειδισμού.
Είναι επίσης, ο πρόδρομος στην παραγωγή πολλών νευροδιαβιβαστών, συμπεριλαμβανομένων της ντοπαμίνης, της νορεπινεφρίνης και της επινεφρίνης. Η L-Τυροσίνη , μέσω της επίδρασης της στους νευροδιαβιβαστές, μπορεί να επηρεάσει διάφορες καταστάσεις της υγείας του οργανισμού, συμπεριλαμβανομένης της νόσου του Πάρκινσον, της κατάθλιψης, και άλλων διαταραχών. Προκαταρτικά συμπεράσματα δείχνουν την ευεργετική επίδραση της τυροσίνης στους ανθρώπους που πλήττονται από άνοια, όπως της νόσου του Αλτσχάιμερ. 
Η L-Τυροσίνη μετατρέπεται από τα κύτταρα του δέρματος σε μελανίνη, προστατεύοντας την επιδερμίδα από τις επιβλαβείς συνέπειες των υπεριώδων ακτινών. Οι άνθρωποι που γεννιούνται με τη γενετική ασθένεια φαινυλκετονουρία (PKU), δεν είναι σε θέση να μεταβολίζουν το αμινοξύ φαινυλαλανίνη. Επιπλέόν, η χορήγηση συμπληρωμάτων τυροσίνης μπορεί να είναι ιδιαίτερα επωφελής σε ορισμένα άτομα με PKU. 
Η L-Τυροσίνη απο την NOW Foods προσφέρει σημαντική στήριξη στην υγιή λειτουργία των αδένων και διευκολύνει τις αρνητικές επιπτώσεις του ψυχολογικού και σωματικού στρες.
Η L- Τυροσίνη στο εν λόγω σκεύασμα είναι φαρμακευτικού βαθμού καθαρότητας (PG). 
Οδηγίες Χρήσης:
Λαμβάνετε 1 καψούλα, 1-3 φορές ημερησίως, ανάμεσα στα γεύματα. 
___________________________________
Now Foods L-Tyrosine 500mg 60Caps
Pharmaceutical Grade
Healthy Glandular Function*
Supports Mental Alertness*
L-Tyrosine is a conditionally indispensable amino acid required for the production of the neurotransmitters dopamine, adrenaline, and noradrenaline, as well as for the skin pigment, melanin.* Noradrenaline (norepinephrine) and adrenaline (epinephrine) are the main actors in the body's response to acute stress and, along with dopamine, help to support a positive mood and mental alertness.* In addition, L-Tyrosine is especially critical for the normal function of the thyroid gland.*
The L-Tyrosine used in this product is Pharmaceutical Grade.
Directions:
Take 1 capsule 1 to 3 times daily, preferably between meals.
Supplements Facts: 
Serving Size:
1 Capsule
Servings Per Container:
60
Amount per Serving
% Daily Value
** Daily Value not established.
L-Tyrosine (Free-Form)
500 mg
**
Other Ingredients:  Bovine Gelatin (BSE-free) (capsule), Stearic Acid (vegetable source) and Silicon Dioxide.
Not manufactured with wheat, gluten, soy, milk, egg, fish, shellfish or tree nut ingredients. Produced in a GMP facility that processes other ingredients containing these allergens.
No customer reviews for the moment.