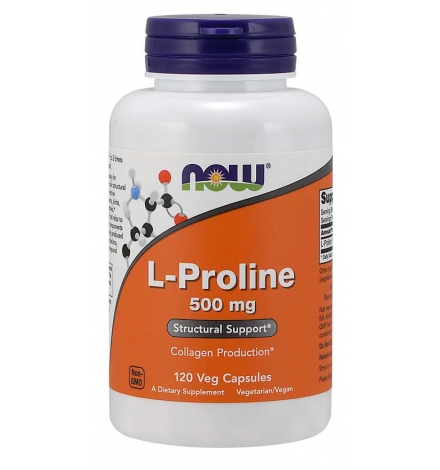 Now Foods L-Proline 500 mg 120 Veg Capsules
2023-02-28
733739001337
New product
Now Foods L-Proline 500 mg 120 Veg Capsules
Η L-προλίνη είναι ένα αμινοξύ το οποίο είναι απαραίτητο για τη σύνθεση του κολλαγόνου, την πιο άφθονη πρωτεΐνη στα θηλαστικά. Είναι ένα μη-απαραίτητο αμινοξύ και ένα από τα είκοσι αμινοξέα που κωδικοποιούνται από το DNA. Το σώμα μπορεί να παράγει την προλίνη από την ορνιθίνη ή το γλουταμικό οξύ και εάν χρειαστεί μπορεί να μετατραπεί ξανά σε ορνιθίνη. Η προλίνη απαιτείται για τη δημιουργία του κολλαγόνου με την παρουσία της βιταμίνης C.
Η προλίνη βοηθά στη μείωση της πίεσης του αίματος, και είναι σημαντική στην επιδιόρθωση των μυών, των τενόντων και του κολλαγόνου. Το κολλαγόνο είναι η κύρια δομική πρωτεΐνη από την οποία αποτελούνται όλοι οι ανθρώπινοι συνδετικοί ιστοί, όπως το δέρμα, οι τένοντες, οι σύνδεσμοι, οι αρθρώσεις, τα οστά και το αγγειακό σύστημα (φλέβες και αρτηρίες). Η L-προλίνη επομένως, παρέχει δομικές μονάδες που βοηθούν στη σταθεροποίηση και την ενίσχυση των δομικών συστατικών του σώματος.
Συνοπτικά η προλίνη μπορεί να βοηθήσει θετικά σε περιπτώσεις τραυμάτων, ελκών, εγκαυμάτων. Αρθρίτιδας αλλά και για την προστασία του κολλαγόνου των αρτηριών. Συνιστάται να συνδυάζετε με συμπλήρωμα Βιταμίνης C για καλύτερη αξιοποίησή της από τον οργανισμό. Αν και η προλίνη μπορεί να παραχθεί στο σώμα. η χαμηλή πρωτεϊνική δίαιτα και η χορτοφαγική διατροφή, δεν μπορεί να παρέχει τη βέλτιστη υποστήριξη για την παραγωγή του κολλαγόνου.
Η NOW L-Proline είναι 100% κατάλληλη για χορτοφάγους.
Οδηγίες Χρήσης:
Πάρτε 2 κάψουλες 1 έως 2 φορές την ημέρα, κατά προτίμηση με άδειο στομάχι.
_________________________________________
Now Foods L-Proline 500 mg 120 Veg Capsules
Important for Collagen Production
Provides Structural Support
L-Proline is an amino acid that is essential for the synthesis of collagen, the most abundant protein in mammals. Collagen is the main structural protein that constitutes all human connective tissues, including skin, tendons, ligaments, joints, bone, and vasculature (veins and arteries). L-Proline therefore provides building blocks that help to stabilize and strengthen the structural components of the body. Although proline can be made in the body, low protein and vegetarian diets may not provide optimal support for the production of collagen.*
Directions:
Take 2 capsules 1 to 2 times daily, preferably on an empty stomach.
Store in a cool, dry place.
Supplements Facts
Serving Size:
2 Vcaps®
Servings Per Container:
60
Amount per Serving
% Daily Value
* Percent Daily Values are based on 2,000 calorie diet.
† Daily Value not established.
L-Proline
1.0 g (1,000 mg)
†
Other Ingredients: Cellulose (capsule), Stearic Acid (vegetable source) and Silica.
Contains no: sugar, salt, starch, yeast, wheat, gluten, corn, soy, milk, egg, shellfish or preservatives.
No customer reviews for the moment.