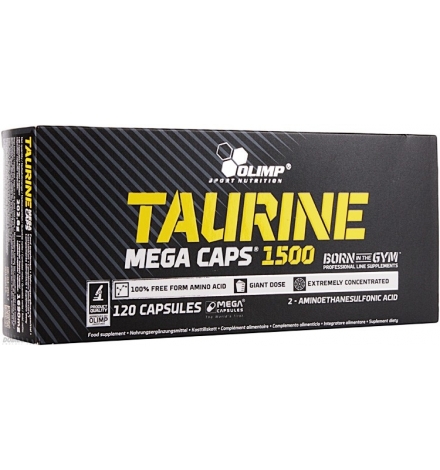 Olimp Taurine 1500mg Mega Caps® 120 Capsules
2019-01-31
5901330024351
New product
Olimp Taurine Mega Caps® 
Στους αθλητές η ταυρίνη αυξάνει την αντοχή στην άσκηση, ενώ είναι ευεργετική για την  καρδιά και αποτελεί ρυθμιστή της ινσουλίνης στο σώμα. Η ταυρίνη βοηθά ακόμα στην ενυδάτωση του τοιχώματος των κυττάρων ενώ είναι απαραίτητη στη λειτουργία του εγκεφάλου.
Η Ταυρίνη χρησιμοποιείται κυρίως από αθλητές σωματικής διάπλασης, αφού επεκτείνει το όγκο των μυϊκών κυττάρων, ενώ αυξάνει την  ενέργεια στους μύες και συνεπώς τη διάρκεια της άσκησης.
Οδηγίες Χρήσης :
Πάρτε 1-2 κάψουλες την ημέρα, ανάλογα με την ένταση της άσκησής σας.
Olimp Taurine Mega Caps® 
High quality product supplementing the diet with pure taurine - the amino acid performing important metabolic functions. MEGA CAPS® technology allows putting the record dose of 1500 mg of pure taurine in a single capsule. This biological compound is not the building element of the body proteins, however it is very important in the amino acids transformation processes.
Taurine is one of the major stores of organic nitrogen, obstructing catabolism and contributing to the growth of lean body weight. Taurine is also important for the operation of the nervous system; it stimulates and mobilises, and reduces tiredness. Similar to insulin, taurine supports the transport of creatine to the muscle cells, improving the eff ectiveness of its supplementation.
Directions :
Take 1-2 capsules a day depending on effort intensity. 
No customer reviews for the moment.