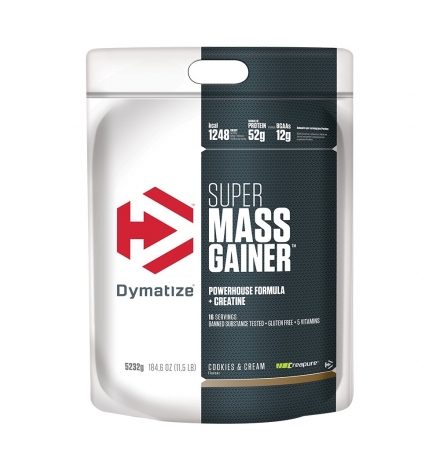 Dymatize Super Mass Gainer 11.5lbs Bag
0000-00-00
New product
Dymatize® SUPER MASS GAINER™
Η Dymatize® SUPER MASS GAINER ™είναι μια εξαιρετικά συμπυκνωμένη φόρμουλα. Η πρωτεΐνη αυτή είναι πλούσια σε Γλουταμίνη, σας παρέχει τα αμινοξέα που είναι απαραίτητα για την ταχεία ανάκαμψη και την μέγιστη ανάπτυξη του μυικού ιστού. 
Ειδικά κατά τις φάσεις της έντονης προπόνησης, είναι απαραίτητο να διασφαλιστεί η κατάλληλη και στοχευμένη πρόσληψη θρεπτικών ουσιών. Η πρόσληψη θρεπτικών συστατικών προσανατολίζεται προς την κατεύθυνση της υποστήριξης της μυϊκής ανάπτυξης, βελτιώνει την απόδοση της προπόνησης και μειώνει την κόπωση. Η "POWERHOUSE Formula" μας είναι μια ειδική φόρμουλα που αναπτύχθηκε για να προσφέρει έναν ισχυρό συνδυασμό κρεατίνης, υδατανθράκων και πρωτεϊνών, ικανοποιώντας τις συγκεκριμένες απαιτήσεις σας κατά τη διάρκεια της φάσης συσσώρευσης / φόρτωσης.
Κάθε μερίδα περιέχει 52 g πρωτεΐνης υψηλής ποιότητας, συμπεριλαμβανομένων 11-12 g BCAAs  + 3 g κρεατίνης και, ανάλογα με τη γεύση, έως και 243 g υδατανθράκων - και χαμηλά σε σάκχαρα *. Η Dymatize® χρησιμοποιεί μόνο καθαρή, υψηλής ποιότητας μονοϋδρική κρεατίνη από το Creapure®. Κατασκευάστηκε στη Γερμανία. Η ημερήσια πρόσληψη 3 g κρεατίνης αυξάνει τη φυσική απόδοση σε διαδοχικές εκρήξεις βραχυπρόθεσμης άσκησης υψηλής έντασης. Οι 5 βιταμίνες (βιταμίνη C, νιασίνη, παντοθενικό οξύ, βιταμίνη Β6 και φυλλικό οξύ) συμπεριλαμβάνουν επίσης τη μείωση της κόπωσης και της κούρασης, ενώ η πρωτεΐνη υποστηρίζει τόσο την ανάπτυξη όσο και τη διατήρηση της μυϊκής μάζας.
52 γραμμάρια πρωτεΐνης υψηλής ποιότητας ανά μερίδα

Συμπεριλαμβανομένων των 11 - 12 g BCAA **

Έως 243 g υδατάνθρακες ανά μερίδα, ανάλογα με τη γεύση

Με 3 g καθαρή κρεατίνη ανά μερίδα

Χαμηλά σε σάκχαρα * (εκτός Cookies & Κρέμα)

Περιλαμβάνονται 5 βιταμίνες

Χωρίς γλουτένη

Κατάλληλο για χορτοφάγους

Ελεγμένη από την "Informed-Choice" για τη διασφάλιση των αθλητών και την υψηλότερη ποιότητα των προϊόντων
Οδηγίες Χρήσης:
1 μερίδα την ημέρα, μετά την άσκηση. 
Οδηγίες ανάμιξης (1 μερίδα): Προσθέστε 3 scoop (συμπεριλαμβάνονται) σε 700 ml νερού και αναμίξτε καλά.
Λόγω της ιδιαίτερα πυκνής μορφής του (όπως και όλες οι gainer) ίσως θελήσετε  να χρησιμοποιήσετε 1,5 scoop x 2 φορές την ημέρα.
Ένα μετά την άσκηση και το άλλο το πρωί ή το απόγευμα ή πριν από τον ύπνο (20-30 λεπτά πριν τον ύπνο).
---
KCAL                                       PROTEIN                 CREATINE
1248                          52g                  3g
Dymatize® SUPER MASS GAINER™
Dymatize® SUPER MASS GAINER™ is a premium mass gainer with an appropriate calorific profile designed to meet the particular needs of bodybuilders, powerlifters and hard gainers in the bulking phase.
Especially during phases of intense training, it is essential to ensure an appropriate and target orientated nutrient intake. A target orientated nutrient intake helps to support muscle growth, improve training performance and reduce fatigue. Our "POWERHOUSE Formula" is a special matrix developed to deliver a powerful combination of creatine, carbohydrates and proteins, satisfying your specific demands during the bulking phase.
Each portion contains 52 g of high-quality protein, including 11–12 g of naturally occurring BCAAs + 3 g of creatine and, depending on flavour, up to 243 g carbohydrates – and low in sugars*. Dymatize® uses only pure, high-quality creatine monohydrate from Creapure®. Made in Germany. A daily intake of 3 g of creatine increases physical performance in successive bursts of short-term, high intensity exercise. The 5 vitamins (vitamin C, niacin, pantothenic acid, vitamin B6 and folate) included also contribute to the reduction of tiredness and fatigue, while the protein supports both growth as well as maintenance of muscle mass.
52 g of high quality protein per serving

Including 11 - 12 g BCAAs**

Up to 243 g carbohydrates per serving, depending on flavour

With 3 g pure creatine per portion

Low in sugars* (except Cookies & Cream)

Including 5 vitamins

Gluten free

Suitable for vegetarians

Banned substance tested by "Informed-Choice" for athletes' assurance and highest product quality

Suggested Usage: 1 portion per day, after exercise. For adults - use only during intensive training periods. 
Mixing instructions (1 portion): Add 3 scoops (included) to 700ml of water and mix thoroughly. 
TIP:
''For better absorve and results mix 1.5 scoops x 2 times daily. 
One after exercise and the other one in the morning,or in the afternoon, or at bedtime (20-30 minutes before going to sleep).''
Supplements Facts
Serving Size: 3 Scoops (327 g*)

Servings Per Container: 16

 

Nutritional Information

Per 327g Serving **

Energy

5,295 kJ

      

-

1,248 kcal

      

Fat

7.8 g

      

of which saturates

2.2 g

      

Carbohydrate

242 g

      

of which sugars

16 g

      

Protein

52 g

      

Salt

.4 g

      

Vitamin(e/a) C

62.7 mg

78%*

Niacin(e/a)

18 mg

112%*

Folic acid

238 Ug

119%*

Vitamin(e/a) B6

1.6 mg

116%*

Pantothenic acid

6.6 mg

111%*

Creatin(e/a)

3 g

      

** per 327 g in 700 ml water

* % Nutrient reference value

 

Ingredients:

Maltodextrin

, milk proteins (20%), (milk protein, whey protein concentrate, whey protein isolate, whey protein hydrolysate, micellar casein)

, sunflower oil

, creatine monohydrate (1%)

, flavourings (milk)

, emulsifiers [lecithins (contains soy)

, mono-and diglycerides of fatty acids]

, thickeners (cellulose gum

, xanthan gum

, carrageenan)

, flavour enhancer (potassium chloride)

, sweeteners (acesulfame k

, sucralose)

, anti-caking agency (silicon dioxide)

, ascorbic acid (vitamin C)

, nicotinamide

, calcium D-pantothenate

, pyridoxine hydrochloride (vitamin B6)

, folic acid.

, colour (curcumin).

**As part of a varied and balanced diet and a healthy lifestyle.

**Allergens listed in BOLD
No customer reviews for the moment.